Workplace World Cup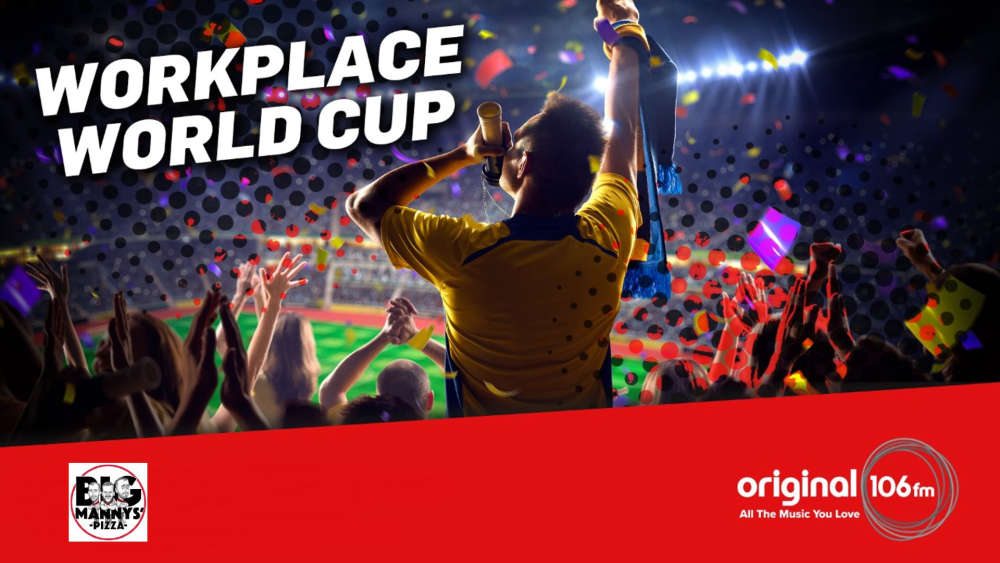 With the World Cup back we want to give your workplace the chance to score with the ultimate sweepstake!

We're running our own Workplace World Cup throughout the tournament and all you need to do is sign your workplace up for the chance to win some delicious Big Manny's Pizzas. With 17 on the menu, we could be sorting you out with one of EVERY pizza off the menu to your work...it really is that easy!

Follow the progress each day on the Lift Home with Martyn and if your team comes good in the final, on Sunday 18th December, then we could be visiting you with the pizzas the next day*

Good luck!

*or another day that week if you work from home on Mondays!
ROUND OF 16 TIES

SATURDAY 3rd DECEMBER
3pm - COULL CARS vs WILSON JAMES / BP

7pm - BEFRIEND A CHILD vs SPARROWS OFFSHORE


SUNDAY 4th DECEMBER

3pm - WESTHILL MUSIC TUITION vs LLOYDS REGISTER

7pm - NORSCOT TRUCK & VAN vs NHS ANCHOR UNIT


MONDAY 5th DECEMBER

3pm - J CHARLES SEAFOODS vs HOUSING OPTIONS

7pm - GROUP G WINNER vs GROUP H WINNER



GROUP A
QATAR THORNBRIDGE SAWMILL
ECUADOR COLAREN HOMES
SENEGAL NHS - ANCHOR UNIT
NETHERLANDS COULL CARAS

GROUP B
ENGLAND NORSCOT TRUCK & VAN
IRAN VEITCH MOIR
USA WILSON JAMES / BP NSHQ
WALES R.DAVIDSON

GROUP C
ARGENTINA BEFRIEND A CHILD
SAUDI ARABIA MARSH INSURANCE
MEXICO SCOTTISH FIRE & RESCUE SERVICE
POLAND LLOYDS REGISTER

GROUP D
FRANCE WESTHILL MUSIC TUITION
AUSTRALIA SPARROWS OFFSHORE
DENMARK NOLAN SEAFOODS
TUNISIA CERTAX ACCOUNTING

GROUP E
SPAIN OEG OFFSHORE
COSTA RICA NHS PRACTITIONER SERVICES
GERMANY BLUEWATER
JAPAN J CHARLES SEAFOODS

GROUP F
BELGIUM NHS MAIN THEATRE
CANADA CLARK COMMERCIALS
MOROCCO NHS MRI DEPARTMENT
CROATIA HOUSING OPTIONS

GROUP G
BRAZIL PITSTOP A96
SERBIA THE DEN & THE GLEN
SWITZERLAND FIT'S THE SCOOP?
CAMEROON ENERMECH

GROUP H
PORTUGAL GIBB TOOLS & SUPPLIES
GHANA CRUDEN BAY GARAGE
URUGUAY DINGBRO LTD
KOREA REPUBLIC ABERDEENSHIRE COUNCIL PTU