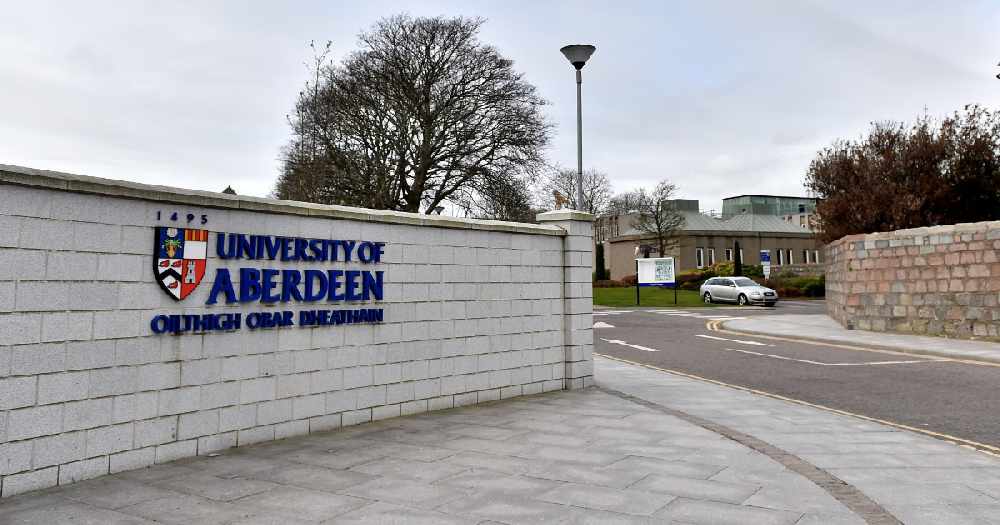 Students across Scotland will be encouraged to avoid visiting bars and restaurants this weekend - as concerns grow about the spread of coronavirus on campuses across the country.
Discussions took place between officials and the government today.
It comes as there have now been 16 confirmed cases of Covid-19 among the student population at Aberdeen University.
More than 70 students are having to self-isolate.
A spokesperson for the incident management team dealing with those cases said: "A multi-agency investigation is ongoing into 16 cases of Covid-19 identified within the University of Aberdeen student population.
"The cases are currently not being treated as a single cluster. Investigations are at an early stage and efforts are being made to identify any linkages between them.
"There is currently no evidence of spread to the wider community and, working with the university, various control measures have been implemented in an effort to curb the risk of any further transmission."
Two cases have also been confirmed among students at North East Scotland College.
Principal Neil Cowie said: "The health, safety and wellbeing of students, staff and visitors to our facilities is our priority and NESCol has extensive measures in place to protect all those connected to the College, including protocols to respond in the event of a case being identified within those groups.
"We can confirm that we have been informed of two positive Coronavirus tests relating to students These cases are not believed to be linked and the individuals are following advice to self-isolate. Our best wishes go to those students and we will provide any support required.
"These isolated cases, which relate to individuals on separate courses at our Altens campus, have been handled in accordance with established procedures and, after liaising with health protection teams, there is no requirement for any additional action to be taken by NESCol or members of our college community."
Following today's national discussions, institutions have agreed to the following measures, according to Universities Scotland:
All universities will make absolutely clear to students that there must be no parties, and no socialising outside their households – communicating and reinforcing these messages on a regular basis using our full range of media channels. Breaches will not be tolerated.
This weekend, the first of the new tighter Scottish Government guidance, we will require students to avoid all socialising outside of their households and outside of their accommodation. We will ask them not to go to bars or other hospitality venues. We will be clear that this is a necessary step at this crucial moment of managing the virus in the student population, to protect students and the wider community.
We will increase the staff presence in student accommodation, to be vigilant against any breaches of guidance and also to offer welfare and practical support to students who are experiencing isolation.
We will engage further with private providers of student accommodation, especially those with significant numbers of bedspaces, to follow our lead and strictly enforce guidance.
We will intensify our institutions' liaison with Police Scotland, to ensure vigilance about student behaviour off-campus and in private accommodation.
We will take a strict 'Yellow Card/Red Card' approach to breaches of student discipline that put students and others at risk. While we first want to advise students about breaches of discipline, we will not hesitate to escalate this to disciplinary action including potential discontinuation of study.
We will commit to further agile staff responses to immediately respond to cases, to help manage the pressures on the public health authorities.
We will require all students to download the Protect Scotland app.
Professor Gerry McCormac, convener, said: "University leaders share the Scottish Government's complete commitment to keeping the student population and the wider community safe.
"We have already implemented strict measures to ensure the safety of the university environment, both for teaching and for student residences.
"We have seen the majority of students live up to our expectations of responsible behaviour, but a minority have not.
"Everyone across the nation shares the concern at seeing students in residences test positive for the virus and we will act decisively to deal with this.
"The additional actions we will take to drive down the transmission of the virus in student accommodation build on the wide-ranging measures already agreed with Scottish Government.
"Taken together, we are confident that these will help significantly to control the virus in student accommodation and impact on the number of positive cases; after the inevitable time-lag caused by some existing cases not yet being symptomatic.
"Our top priority to making sure that students that have tested positive and those quarantining are well-supported and ready to return to their studies. We appreciate this isn't what students would have expected from their first few weeks at university, but it is critical that they play their part in suppressing the virus."
Richard Lochhead MSP, minister for further education, higher education and science, said: "This is a welcome package of additional actions, building on the clear guidance that is already in place, to support all students and staff adhere to the rules and stay safe as they make a welcome return to study.
"We expect everyone to comply with public health advice and, as new laws come into force tomorrow, it's even more important institutions make every effort to ensure the rules are understood and followed - and appropriate actions are taken if not.
"We know that these are difficult times for many students and we are grateful to them for the sacrifices they are making to protect themselves, their fellow students and the wider community."