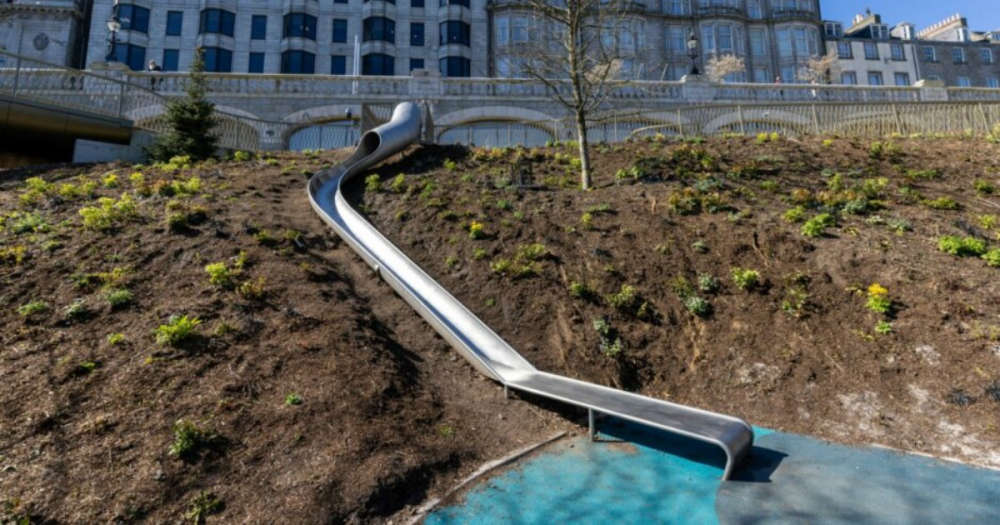 The slide at UTG. Image: Scott Baxter/DC Thomson
Robert Gordon's College is investigating following reports a four-year-old boy was upset by a number of its pupils.
A group of teens allegedly vandalised a slide at Union Terrace Gardens by pouring juice and condiments down it in front of the child, reducing him to tears.
The boy's parent took to social media, writing: "Today at Union Terrace Gardens students from Robert Gordon College on their lunch break threw a juice bottle down the slide after my four-year-old son, then proceeded to throw a tub of garlic sauce down that burst covering the bottom of the slide, after this my four-year-old boy was crying in front of the group of students from the school as they the poured some sort of red/chilli sauce all around the top of the slide.
"When I went to confront the students they ran away. I shouted for them to clean the slide or I would contact the school, but they ignored me.
"They were approximately 13 years old, reducing a wee four-year-old boy to tears is unacceptable and so was their behaviour."
The parent contacted the school to report the incident, but they weren't able to identify the group as they were given wrong information by another group of teens.
But the college says it is investigating, insisting the behaviour of the youths isn't acceptable for any pupil.
The school commented on the original post: "Robert Gordon's College is aware and senior managers have met with the member of the public who reported this to the school.
"This is being investigated and will be addressed. This is not acceptable behaviour for any pupil of Robert Gordon's College."