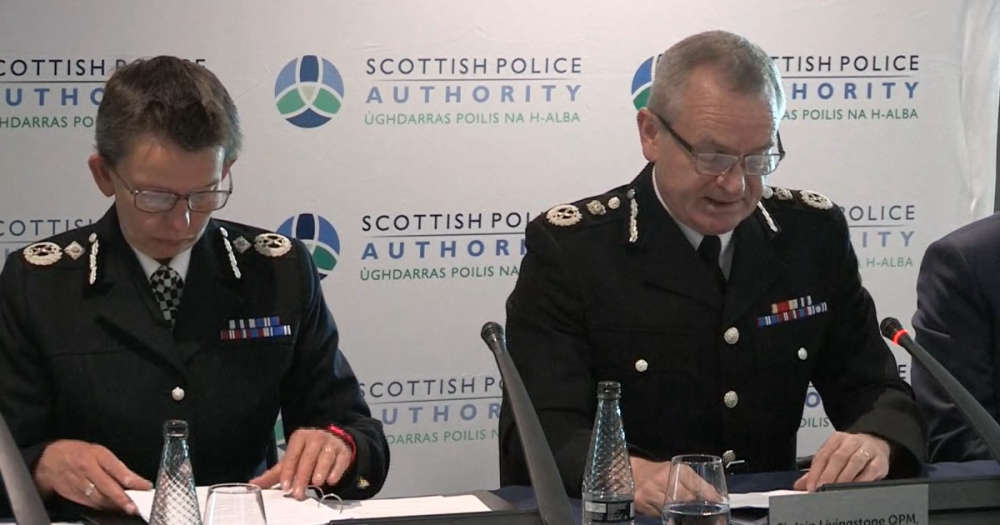 Sir Iain Livingstone (right) addresses the Scottish Police Authority meeting. Image: Scottish Police Authority.
The chief constable of Police Scotland Sir Iain Livingstone has admitted that "institutional racism, sexism, misogyny and discrimination" exist in the force.
He made the comments at a meeting of the Scottish Police Authority (SPA) this morning (Thursday).
They come amid ongoing controversy about policing culture in the UK, following comments and concerns about the Met Police force in England.
Sir Iain also said that acknowledging the issues exist was vital for real change to happen.
Addressing the meeting he said: "It is right for me, the right thing for me to do as chief constable, to clearly state that institutional racism, sexism, misogyny and discrimination exist.
"Police Scotland is institutionally racist and discriminatory."
He put the "onus" on the force to rid itself of institutional racism but stressed that his admission did not mean individual officers and staff were racist or sexist, expressing confidence and pride in their work.
He said people from different backgrounds sometimes do not receive the service they should, which includes his own officers and staff.
He added: "Publicly acknowledging these institutional issues exist in our organisation is essential to our absolute commitment to championing equality and becoming an anti-racist service,
"It is also critical to our determination to lead wider change and support wider change in society."
A review group set up two years ago found instances of "poor behaviour being known and seen in plain sight with no action being taken" and that people were being "punished for raising issues or concerns".
Four women also spoke to BBC Newsnight about allegations of a "boys club" culture in Police Scotland.
Sir Iain says the real challenge and test will be how institutional racism will be tackled within the force.
Last year, Police Scotland launched Policing Together, a four year strategy to tackle discrimination in the force and in the community, what it described as "canteen culture".
Training will also be given to officers and staff at all levels, with prevention and increased communication also forming part of that.
Sir Iain, alongside assistant chief constable David Duncan from Policing Together, said that people who reject Police Scotland's values and do not have a place in the force.
The chief's comments also come amid the ongoing Sheku Bayoh inquiry which is investigating the circumstances of the 31-year-old's death in Kirkcaldy in 2015 and whether race was a factor.
Speaking at the SPA meeting he said: "A candid, clear, assessment of institutional discrimination means recognising our absolute duty to provide just and effective policing for all according to their specific needs and circumstances.
"It also requires identifying and removing the deep-rooted barriers to achieving this. These are necessary steps to progress the commitment that Police Scotland will be anti-racist; a personal commitment I made to my fellow citizens at the commencement of the public inquiry into the death of Sheku Bayoh.
"And, as a commitment to the people of Scotland, it is also a commitment to Sheku Bayoh's family and loved ones."
Chair of the Sheku Bayoh inquiry, Lord Bracadale, said in response to Sir Iain's statement: "The inquiry welcomes the statement today by the chief constable of Police Scotland.
"The Sheku Bayoh Inquiry was set up to examine the events surrounding the death of Mr Bayoh, including whether race was a factor in those events. I look forward to the continued co-operation of Police Scotland in the work of the inquiry."