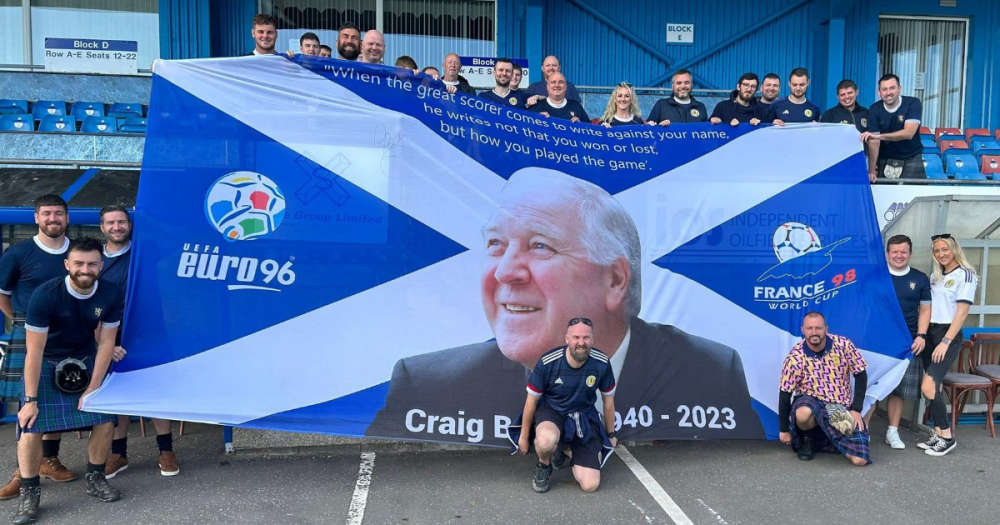 Picture: North East Tartan Army
The North East Tartan Army is gearing up for a Scotland v England friendly at Hampden tonight (12 September, 2023).
The fixture marks the 150th anniversary of the oldest international match.
Kevin, who runs the North East Tartan Army group, is heading down to Glasgow with two buses jam-packed with fans from Peterhead.
He told Original 106: "[We're] always excited, especially when playing England. And even more so the way the squad's playing just now. We're not really fearing anyone right now."
Steve Clarke's side are going into tonight's game in a good place with their most recent result, a 3-0 win over Cyprus, helping them along in their quest to qualify for Euro 2024.
Fans will also be keeping a close eye on another game, a Euro 24 qualifier between fellow Group A sides Norway and Georgia has huge implications for Scotland being able to play in a major tournament.
A draw there would mean Scotland will be the first team to qualify.
Kevin added: "I think if we can get a win tonight against England, and a draw there, I think it will be party central at Hampden tonight."
The Norway versus Georgia clash kicks off at the same time, with some fans joking on social media they'll be watching the game online while at Hampden.
Scotland haven't beaten their old rivals since 1999, but Kevin is hopeful about tonight's result.
"I think it's going to be 2-0 Scotland. I've got no fear at all going into this fixture, I think most fans are the same. I don't think we fear anyone just now, with the way the boys are playing," he said.
Scotland manager Steve Clarke reckons both teams will be wanting the bragging rights that come with a win.
Speaking to Sky Sports News, he said: "I think it'll be a competitive friendly, if you can have such a thing. I think both teams will want to win. Obviously the boys from both sides interact with each other at different clubs, they come across each other all season. So, both sides will want the bragging rights.
"We'll try to take out of this game what we'll need to take out of it. I've got some things I want to see on the pitch. Testing ourselves against top opposition, which we're going to come across more often in the next 12, 18 months.
"I don't think it'll really matter how both teams set up, or how both camps set up. Once you get here, the atmosphere of the game, it'll be very competitive. It should be a decent match."
It kicks off at 19:45 tonight.