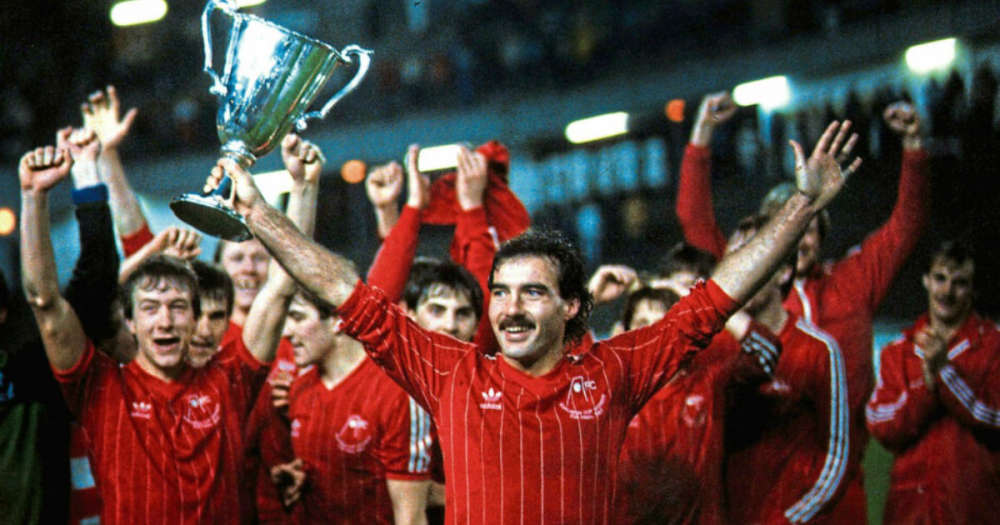 The Gothenburg Greats received the Freedom of the City award.
40 years on from their glorious win against Real Madrid, the almighty 1983 Aberdeen team have been awarded with Freedom of the City.
It is the highest order which Aberdeen City Council can honour, made by the council and citizens of Aberdeen.
Others who have received the award include Nelson Mandela, Sir Winston Churchill, and Sir Alex Ferguson.
It was May 11 1983 that the Gothenburg Greats, along with gaffer Sir Alex Ferguson and 12,000 fans, became European Cup champions after a 2-1 defeat against football giants, Real Madrid, leading victory home to the Granite City.
Since then, no other team has beat Real Madrid in a European final.
2,500 fans gathered at Pittodrie to watch the Freedom of the City bestowed upon the players by Lord Provost, David Cameron.
Renditions of the Northern Lights and Flower of Scotland were sung, as clips were displayed of their legendary goals which gained them the top spot.
A red number four shirt draped over an empty seat on stage to remember their late team-mate, Neale Cooper, as they shared their cherished memories with the player.
John Hewitt accepted the award on his behalf.
Although Sir Alex Ferguson was unable to attend, he recorded a video message where he said: "I think back to 40 years ago and who can forget that wonderful night?
"The players were fantastic, the support was fantastic. Do you remember thousands of them went on that boat, the St. Clair going across the North Sea? What a time they had.
"These are memories that always flash back in my mind and it was such a wonderful event. Just recently, it came to my notice that Aberdeen were the last team to beat Real Madrid in a final 40 years ago, so well done to the players and well done to the club."
Aberdeen Chairman, Dave Cormack said it was "the highest honour" for the club to receive.
Lord Provost David Cameron said: "It really is a significant day in Aberdeen's history.
"I think it was important that we recognise the team that had these great achievements back in 1983 and it's probably the most significant thing that we can award anyone or any group.
"It's really important that each of the Gothenburg Greats have been made free men of the City of Aberdeen."
At tomorrow's home match against Hibernian, celebrations will continue as the players will be honoured and a plaque remembering their historic win will be unveiled.
Speaking after the ceremony, Neil Simpson said receiving the Freedom of the City award is something beyond his wildest dreams: