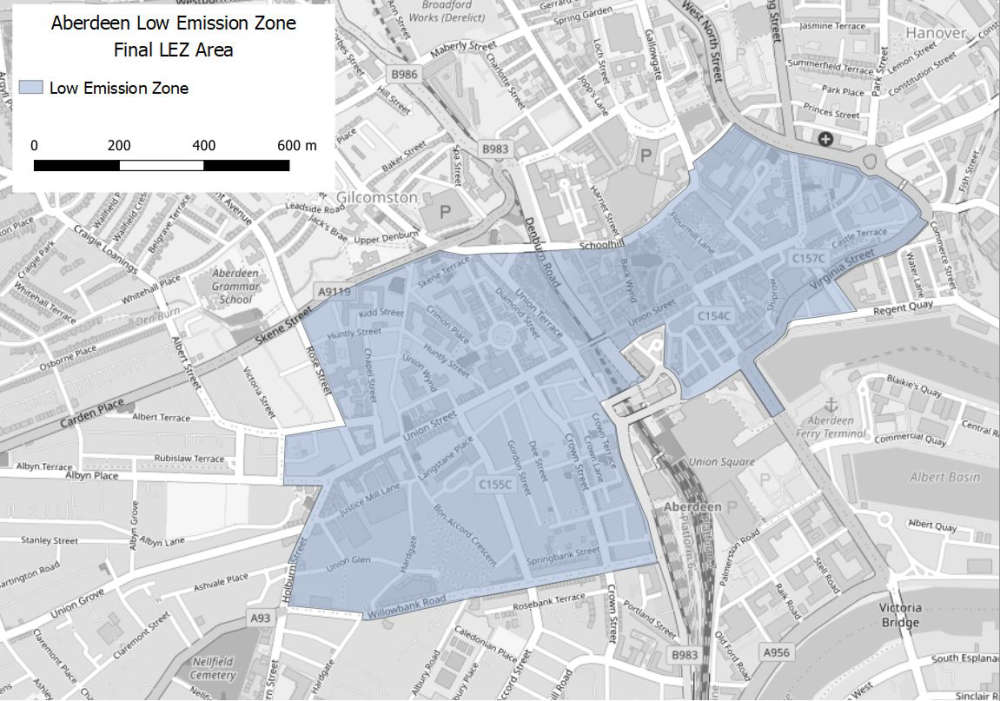 An official map of the Aberdeen LEZ. Image: Aberdeen City Council.
Dozens of automatic cameras designed to catch high-pollution vehicles driving through Aberdeen's low emission zone (LEZ) will soon be rolling out across the city.
From June 1, 2024, the city's long-debated and highly controversial LEZ will officially start being enforced.
This means that from this date, anyone recorded by the specialist cameras inside the zone driving a banned vehicle will be hit with a £60 fine.
The Aberdeen LEZ covers much of the city centre, extending from Holburn Street in the west, to Virginia Street in the east.
According to the city council, there are 36 separate entry points into the zone.
These include the top of Holburn Street, the turn onto Union Terrace from Rosemount Viaduct, and on King Street next to the Aberdeen Arts Centre.
Each of these 36 points will have automatic number plate recognition (ANPR) camera technology in place.
The cameras will scan the registration plates of every vehicle crossing the boundaries into the zone, and check to see if they're banned and should be issued a £60 fine or not.
The zones are all designed to tackle air pollution by targeting one of the biggest contributors to it in city centres — traffic.
They're also aimed at reducing our contribution to climate change by cutting the number of car miles driven, especially in older vehicles which are typically produce more harmful emissions than more modern ones.
"All of these benefits help to create a vibrant, accessible, and safe city centre for everyone," says Aberdeen City Council.
The only people who will be fined for going into the Aberdeen LEZ from June 2024 are people driving vehicles which don't meet its strict emissions criteria.
There are certain exemptions in place for the LEZ, including for the emergency services, historic vehicles, and all motorbikes/mopeds.
Blue badge holders are also exempt, and they should register their details here to make sure they don't end up facing a fine come next June in Aberdeen.
But everyone else should put their vehicle registration details into the official LEZ compliance checker to see if they will be banned or not.