A new campaign to remind passengers disruptive behaviour won't be tolerated's been launched.
Campus Watch is now running throughout Aberdeen Airport and it was introduced in partnership with Police Scotland.
Between April 2021 and March 2023, there have been 48 disruptive passenger calls, but within the same period, more than 3.1 million passengers went through the airport gates, meaning the number of incidents are rare.
AIA security manager WIlliam Wallace said: "For many of our passengers, the arrival at the airport signals the start of their holiday.
"We want to ensure our passengers continue to enjoy a pleasant and safe journey and Campus Watch is in place throughout the year to ensure it's a memorable one for the right reasons."
Airport staff will report individuals displaying disruptive behaviour, such as those under the influence of alcohol or abusive to staff to the airport's central control room.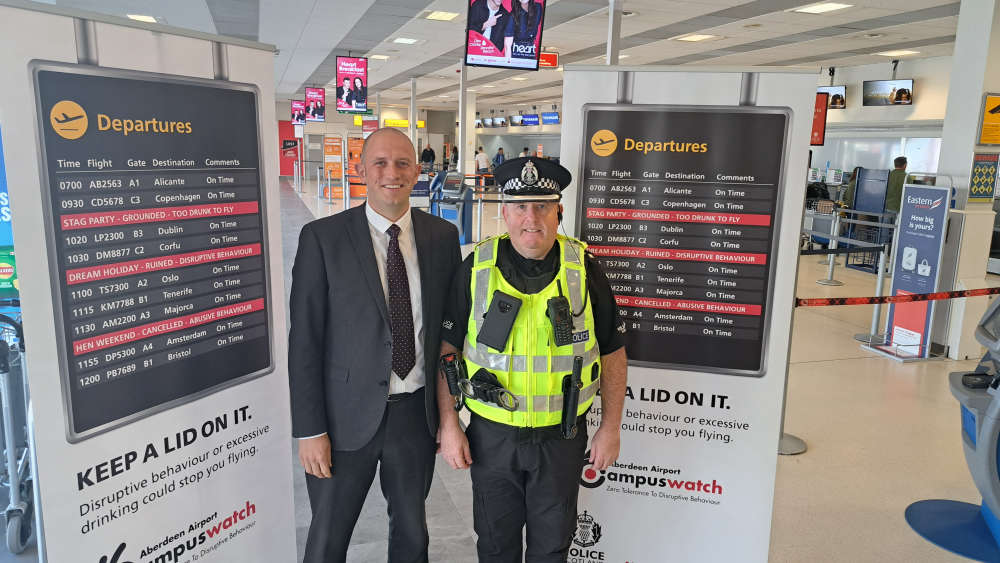 Left: William Wallace Airport Security Manager and Inspector Gary Tough, right.
This information then is shared with staff across the airport campus via a rapid text alert system.
Passengers can also be given warnings about their behaviour, monitored by police and airport staff, or even refused alcohol at all bars and restaurants.
Inspector Gary Tough, from Police Scotland's Border Policing Command, said: "Our approach through Campus Watch is not to wait and respond to incidents of disorder, but to proactively prevent them from occurring, through a combination of early intervention, engagement and patrolling.
"Our message to the public is that Police Scotland and our airport partners are here to support you and to ensure your journey through the airport campus is a successful one."
Disruptive behaviour covers a broad range of offences and can result in a number of possible actions such as being refused service, a police warning or arrest and if they are able to board the aircraft.