Christmas Appeal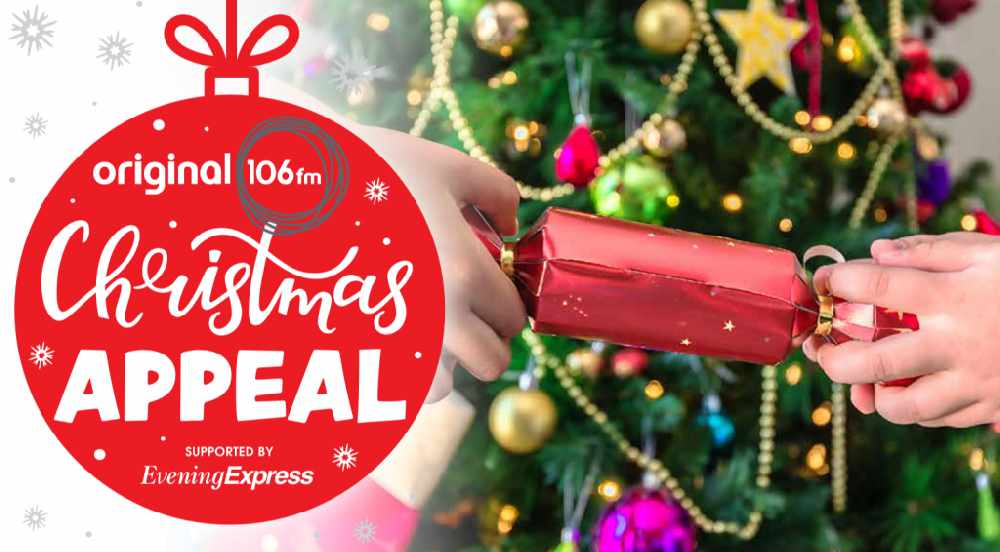 The Original 106 Christmas Appeal 2019.
Once again, as we move towards the festive season, we start to think about how we can help those in our area who are not as fortunate as ourselves. This will be Original 106's 13th annual Christmas appeal, and this year we're hoping to address need where it is at its greatest. We are grateful to the Evening Express for their support of our appeal, and our thanks also go to Marischal Square for their kind and generous co-operation.
Some families and individuals struggle badly to cope with the stresses of Christmas time, and it is predicted that demand placed on local food banks will again be at critical point making this time of year a very worrying one. So this year again, instead of asking for toys, we are looking only for your donations of non-perishable foods, toiletries, baby products and winter-warming clothes (MUST be brand new).
Community Food Initiatives North East (CFINE) which is based in Aberdeen, is one of the city's largest food banks, but it also provides supplies to 180 other organisations across the North-east of Scotland. All your generous donations will be gathered and processed by CFINE.
So, what kind of donations are we looking for? First and foremost, all donations MUST be shop-bought and brand new, newly purchased in original, undamaged packaging. We will not accept donations that are not brand new – see below for a detailed list of suggestions.
Please observe that Original 106 has moved to new premises since last year, and you should take careful note of the instructions for making your donations.
Small scale donations (individual items, one or two bags of shopping) can be dropped off at Original 106, 1 Marischal Square, Aberdeen, AB10 1BL during office hours, Monday to Friday during these times only: 8am to 5pm. On Saturday and Sundays, between 9am and 4pm.
Larger scale donations (car-boot loads, van loads etc) can be dropped off at the delivery entrance of Marischal Square, this is accessed from Flourmill Lane. Click here to link to map.
Drop off times are as follows:
18th November to 23rd December weekdays – 9am til 5pm
Saturdays and Sundays through November/December – 9am til 4pm
24th December 9am to 1pm
25th and 26th – no drop offs
27th December – 9am til 4pm
30th and 31st December 9am to 1pm
If you want to donate from the comfort of your sofa, we are more than happy to accept deliveries from online grocery supermarkets, just make sure the delivery slot is weekdays during office hours, and that the delivery address is Original 106 Appeal, Goods-In Entrance, Flourmill Lane, 1 Marischal Square, Aberdeen, AB10 1BA.
If you can't make it to Original 106, the following north east businesses have drop off points for your donations:
Aberdeen: JoJo's Coffee Shop, 24-28 Belmont Street, Aberdeen AB10 1JH
Aberdeen: CFINE, 2-4 Poynernook Rd, Aberdeen AB11 5RW (Please state that you're making an Original 106 donation)
Aberdeen: Achilles Information Ltd, Unit 7 Burnbank Business Centre, Souterhead Road, Altens AB12 3LF
Ellon: Frasers Of Ellon, Ythan Terrace, Ellon AB41 9LL
Inverurie: I&K Motors, Highclere Business Park, Highclere Way, Inverurie AB51 5QW
Inverurie: Gamers 'n' Geeks, 36 North Street, Inverurie AB51 4RS
Longside: Carousel Crafts, 25-27 Main Street, Longside AB42 4NX
Millbank: Baileys Taxis, 13 Anvil Terrace, Millbank AB51 7RX
Newmachar: Kilts Wi Hae, Scotstown Road, Newmachar AB21 7PP
Peterculter: Fits The Scoop, 161 North Deeside Road, Peterculter AB14 0RR
Peterhead: West End Butchers, 11 West Rd, Peterhead AB42 2AJ
Stoneywood: The Papeterie, Stoneywood Mill, Aberdeen AB21 9AB
Tarland: Tarland Primary School, School Rd, Tarland, Aboyne AB34 4UU
Torphins: Sunshine Nursery Torphins Ltd, 4 Beltie Road, Torphins AB31 4JT
If your business is keen on becoming a drop off point for our appeal, get in touch via info@originalfm.com and we may add you to our list. Please colour print the poster you'll find here to display that you are collecting for our appeal.
Final closing date for donations to arrive at Original 106 is Tuesday 31st December at 1pm at the latest. Thank you for your help.
Food and grocery items required:
Staples
Tea
Coffee
Sugar
Soap powder/softener
Milk powder/UHT or soy milk
Sunflower oil
Peanut butter
Jam or marmalade
Salt
Pepper
Pet food for cats and dogs is also needed and very much appreciated!
Breakfast
Cereals eg. Cornflakes. Weetabix
Porridge oats
Oatmeal
Muesli
Fruit juice
Jam/spread
Desserts
Tinned fruit
Tinned custard or packet custard
Tinned rice pudding
Toiletries
Toothpaste
Toothbrush
Soap
Deodorant
Shampoo
Toilet roll
Shaving foam and razor
Sanitary items
Lunch/Dinner
Pasta
Rice
Noodles
PKT instant mash potato
Pulses
Pasta sauce
Packet soup
Tinned soup
Tinned tomatoes
Tinned sweetcorn
Tinned beans
Tinned peas
Tinned potato
Tinned fish e.g. salmon/tuna
Tinned meat
Tinned chicken
Tinned ready meals e.g. stews
Tomato sauce
Crackers
Biscuits
Snacking food
Tin opener
Baby Products
Milk
Sanitary items
Baby food
Steriliser
Baby wipes/creams
Winterwarmers for kids – items in all kids' sizes needed
Warm practical pyjamas
Socks
Onesies
Slipper Socks