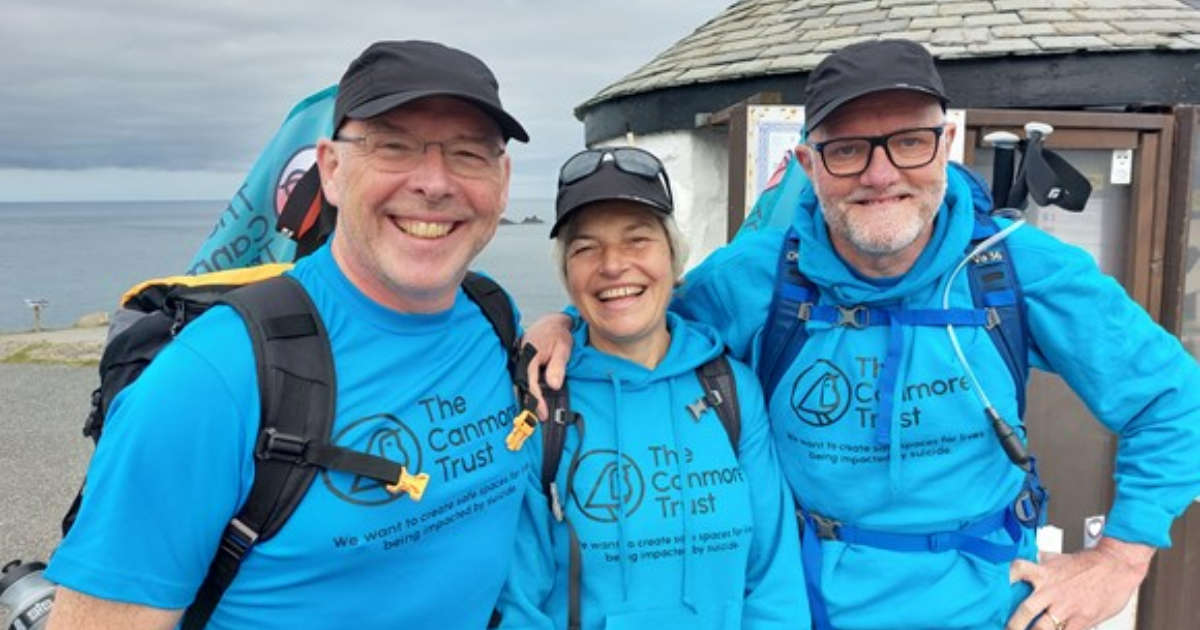 From left to right - Professor John Gibson, his wife Isobel, and their friend John Gallacher leaving Land's End on 13 June.
A University of Aberdeen professor is putting his best foot forward in a walking challenge from Land's End to John O'Groats, to raise awareness of the impact of suicide on families following the death of his son.
Professor John Gibson has set off from Land's End alongside his wife Isobel and family friend John Gallacher with a target of raising £250,000 for the couple's charity, the Canmore Trust.
The charity was established following their son Cameron's death by suicide in 2019 and aims to promote and develop the concept of 'safe spaces' in suicide prevention. These can be found inside people's minds, workplaces, homes, and classrooms, ensuring that these are available to anyone affected by suicidal distress.
John said: "It means a huge amount to Isobel and I to be undertaking this 1,200-mile adventure – which has been in the planning for over a year now but was frequently thwarted by Covid and lockdowns.
"Walking in the great outdoors has been a significant part of trying to recover from Cameron's death in October 2019, and that's why we are now combining walking with opening up a national conversation about suicide and suicide prevention.
"We have already had some very meaningful conversations with many people as we walk - so many families, communities and workplaces have been affected by suicide and opening up the conversation and bringing suicide into the light is part of Cameron's legacy."
Their challenge is expected to take until the end of August, with the first stage of their journey seeing them tackle the South West Coastal path. From there they will travel along the Welsh border, into the Peak District, and then through The Pennines before reaching Scotland. A special 'meet and greet' event is planned in Edinburgh on Saturday 6 August, giving an opportunity for supporters to come together with the walking team for a picnic and celebration.
The team plans to reach John O'Groats on Saturday, 27 August.
Anyone interested in joining John and Isobel on their walk and raising sponsorship for The Canmore Trust can visit the Canmore Trust's website or John's JustGiving page where donations can also be made.