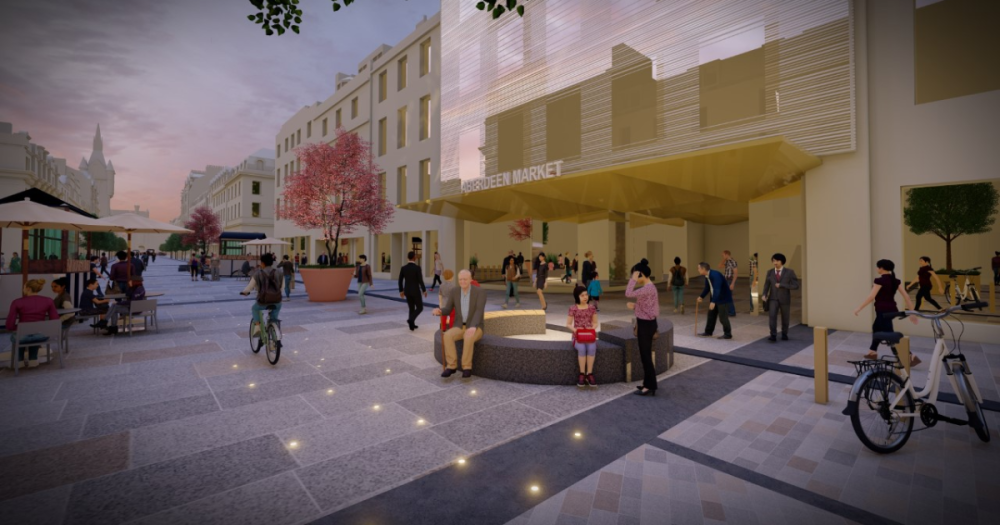 Picture: Aberdeen City Council
A £150m regeneration project for Aberdeen's city centre was given the go-ahead at a council committee meeting on Friday.
The proposals include the pedestrianisation of Union Street and the creation of a new city market. There are also plans for a revitalisation of the beachfront which features a new pier and a state-of-the-art sports area which could include a new stadium for Aberdeen FC.
The go-ahead for the plans was hailed as "exciting" and "transformative" by the committee convener, Cllr Ryan Houghton, and Aberdeen City Council's Leader, Cllr Jenny Laing.
At the meeting, the pedestrianisation of Union Street was a divisive issue, with councillors debating whether access for public transport should be restored along the length of the street.
It was after concerns were raised that restricting bus services could "exclude" disabled and elderly people from the city centre.
The committee heard from Hussein Patwa, a spokesperson for the Aberdeen City Disability Equity Partnership, who said the proposals would have a "devastating effect on people with disabilities" and would be "effectively engineering them out of the heart of the city."
However, the motion passed following a 4-4 tie and the casting vote from the convener.
It will see the section of Union Street currently under the Spaces for People measures permanently restricting access to all vehicles.
The committee also heard from the chair of the Aberdeen City & Shire Hotels Association, Frank Whitaker, who said pedestrianising the street would help improve tourism and footfall to the city centre.
Speaking to Original 106, the Lord Provost, Cllr Barney Crockett, said he was "pleased" with the approval of the plans and that it "paints the image of a city that is very much moving forward."
Lib Dem Group Leader Cllr Ian Yuill said the decision was the "most important" the council had faced and voiced dismay that "the vast majority of councillors had no say".
An attempt at the end of the meeting by SNP Group Leader Cllr Alex Nichol to bring the motion before the full Council was denied by the convener.