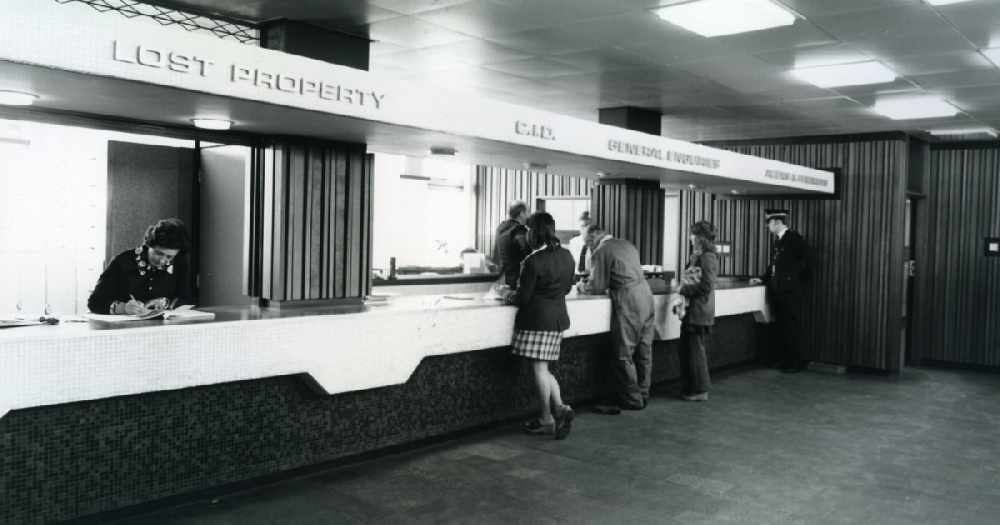 The public counter at Queen Street in the 1970s (courtesy of Police Scotland)
A new era for policing in Aberdeen begins today with the opening of the public service counter at the new HQ in Marischal College.
The counter had been located at the Queen Street police station for more than 45 years.
But it has now moved as part of plans to sell the old station and integrate police staff with partner organisations, and into existing police buildings.
The public can now access the counter within Aberdeen City Council's customer service centre on Broad Street.
Chief Superintendent George Macdonald said: "Today marks an important milestone and the start of an exciting new chapter for policing in Aberdeen.
"Although we will still have police staff and officers working in Queen Street for the next few months, the move of the public office marks the start of a new model for staff and officers in the city.
"Once all of the moves have taken place later this year, we will have greater synergy across our departments through the creation of specialist hubs such as for public protection, criminal justice and CID, cybercrime plus specialist support teams.
"There will be greater integration and partnership working for our staff who regularly liaise with council departments such as social work, antisocial behaviour and licensing, enabling a collaborative approach.
"The facilities within Marischal College and customer experience for the public who attend is excellent and the working environment for our staff and officers who will based there is a marked improvement.
"Our city centre officers recently moved into secure offices within Marischal College and the level of service that the public experienced from Queen Street will be no different at Marischal College.
"There has been no reduction in the number of police officers who serve the city centre or any change to our patrols and coverage of the area.
"The new police public counter will retain its opening hours of seven days a week."
Assistant Chief Constable, local policing north, John Hawkins, said: "Today is a significant day for policing in the north-east and Police Scotland's wider national estates strategy.
"Integrating with partners, will enhance service delivery to the public through increased collaborative working. Making use of available office space in local authority buildings also provides financial efficiencies in terms of public spending and will help to reduce our overall environmental footprint, which is a key objective of our estates strategy.
"The North East Division Integration Project (NEDIP) is the first estates project of this magnitude to be undertaken by Police Scotland and will be used as the template for similar integration projects in other areas of Scotland as we develop enhanced services to serve the public.
"Working together with our partners will ensure we provide more effective public services with better outcomes for the local community."
Councillor Jenny Laing, leader of the city council, said: "We are delighted Police Scotland's city centre police station will be located in Marischal College from today as it will provide us with increased opportunities to work together.
"We hope police staff will enjoy their new workplace environment and residents will find it helpful to have the Police Scotland public counter and our customer services centre located in the same place."