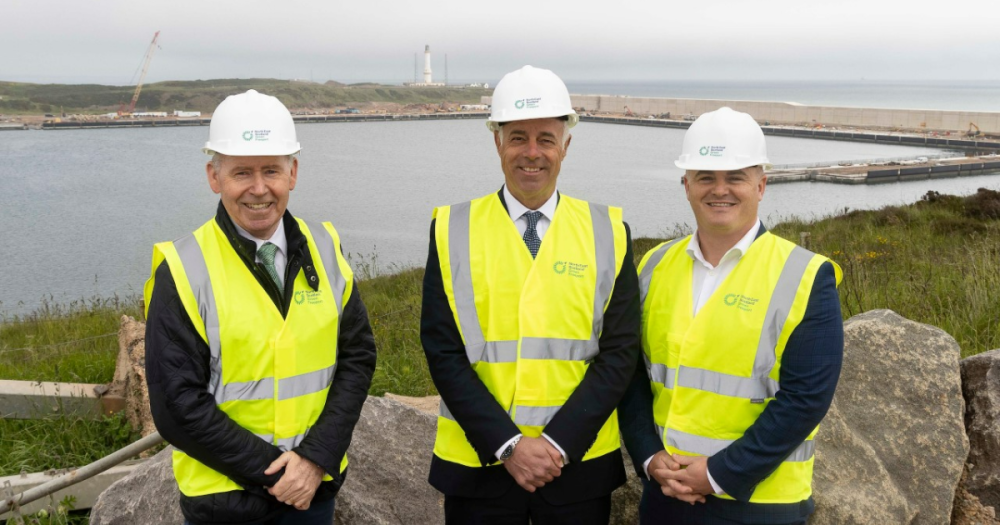 (left to right) Simon Brebner, Peterhead Port Authority, Bob Sanguinetti, Chief Executive, Port of Aberdeen and Jon Matthews, Group Head of Capital and Planning
Up to 30,000 high-quality jobs could be created in the North East under ground-breaking plans to transform the region into the 'Net Zero Capital of Europe'.
A major regional alliance has today (Friday, 10 June) announced its formal bid for Green Freeport status which will boost GVA by £7.5 billion over the next decade and usher in a new era of investment, innovation, regional regeneration and opportunities for "those that need them most".
According to the alliance, Green Freeport status will bring large-scale, advanced manufacturing to Aberdeen to maximise economic benefit from Scotland's rapidly-growing offshore wind and hydrogen sectors and accelerate pioneering carbon capture projects on the Buchan coast. The partners also believe that the fusion of Green Freeport status with the North East's world-leading energy expertise will lead the UK's decarbonisation drive and just transition to a Net Zero economy.
Bob Sanguinetti, Chief Executive of Port of Aberdeen, said: "In this climate emergency, the UK needs a region with a proven track record of delivering innovative energy solutions and economic opportunities at pace. The fusion of Green Freeport status with a region internationally renowned for its resilience, adaptability and pioneering entrepreneurial spirit would deliver a prosperous new chapter in our industrial story. One which, quite literally, could help change the world.
"So, let's back North East Scotland Green Freeport. Let's accelerate Scotland and the UK's journey to Net Zero. Let's anchor the world's leading energy companies and talent right here for another 50 years."
It will also create a regional customs hub for premium and globally recognised Scottish food and drink exports, building direct links to key markets for products such as Scotch whisky, seafood and meat produce.
North East Scotland Green Freeport will comprise a special economic zone within which a number of levers and tax incentives will be available to attract new inward investment and support expansion of existing businesses to invest, innovate and develop the skills needed to deliver a wide range of pioneering new projects. The ambitious proposals will secure vital trade and support the acceleration of innovation, diversification and decarbonisation of the region's key sectors:
Cllr Ian Yuill, Co-Leader of Aberdeen City Council, said: "For 50 years, Aberdeen and the North East have been the centre of the UK's world-beating energy sector. The North East of Scotland Green Freeport would allow us to build on this and the City Council will continue to work with our partners and others to submit the strongest possible bid for a Green Freeport.
"If this bid succeeds, it will have a key role in securing business and jobs for the North East for years to come. This would build on investments already made by Aberdeen City Council, the Port of Aberdeen and the Scottish Government and UK Governments through the City Region Deal and Energy Transition Fund.
"The legacy here of decades of enterprise, technology, research and innovation in offshore engineering and talent across the supply chain, equips Aberdeen and the North East with the foundation to deliver the vision of Aberdeen becoming the Net Zero Capital of Europe."