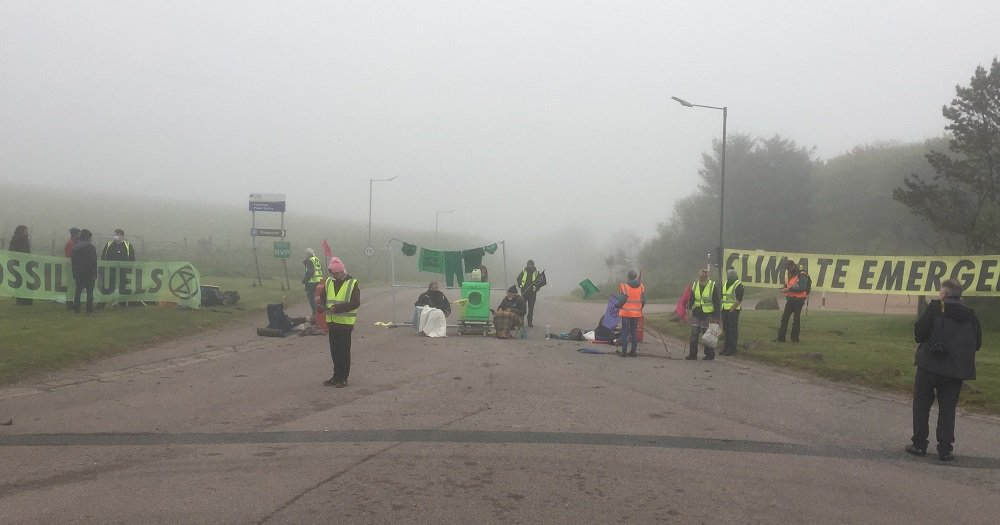 Photo: Mark Richards
About 20 environmental activists blocked the entrance to Peterhead power station this morning.
The protestors have come from Extinction Rebellion Scotland and Glasgow Calls Out Polluters.
They are calling out what they say is "greenwashing".
A green washing machine has been blocking vehicles from getting into the site.
There are calls for a "just transition" for the local workforce and a move away from a fossil fuel-based economy.
SSE, which runs the facility, says its looking at redevelopment opportunities to decarbonise the plant.
Police say officers have been in attendance but described the event as "peaceful".
Cathel Hutchison from Glasgow Calls Out Polluters said: "By sponsoring COP26 in Glasgow, SSE want you to think they are leading the charge into a renewable future.
"They are havering. SSE are not fit to be given a platform at COP26.
"That is why we support our friends at XR Scotland to call out SSE as the climate wreckers they truly are."
Stuart Bretherton, an XR Scotland activist, said: "Despite the UK Government's rhetoric on new green jobs, companies like SSE continue to exploit cheap overseas labour.
"The government need to ramp up the pressure on companies like SSE to end fossil fuel extraction and deliver a just transition for the sake of the local workforce."
A spokesperson for SSE said: "As the UK's leading generator of renewable energy, climate action is at the core of SSE's business.
"We've set clear carbon reduction targets, aligned with the Paris Agreement and verified by the science-based target initiative.
"As Scotland's only major thermal power station, Peterhead Power Station provides critical flexibility to the electricity system, supporting intermittent renewable generation and maintaining security of supply.
"We're currently developing plans for a new decarbonised power station at Peterhead, using carbon capture and storage (CCS) technology to remove CO2 from its emissions.
"This project could play a major role in supporting wider industrial decarbonisation in Scotland, helping to ensure a just transition for workers and communities."
A spokesperson from Police Scotland said: "Officers are in attendance at a peaceful protest at the entrance to Peterhead power station and engaging with the protestors.
"Currently the main A90 is not affected."
A UK Government spokesperson said: "We share the passion of many in ending our contribution to climate change and protecting our planet for this generation and those to come.
"We are working hard to drive down demand for fossil fuels and eliminate our contribution to climate change, but ​we also know there will continue to be ongoing demand for oil and gas.
"As part of the UK's shift towards green energy, we are the first G7 country to back the decarbonisation of the oil and gas industry while supporting tens of thousands of jobs."