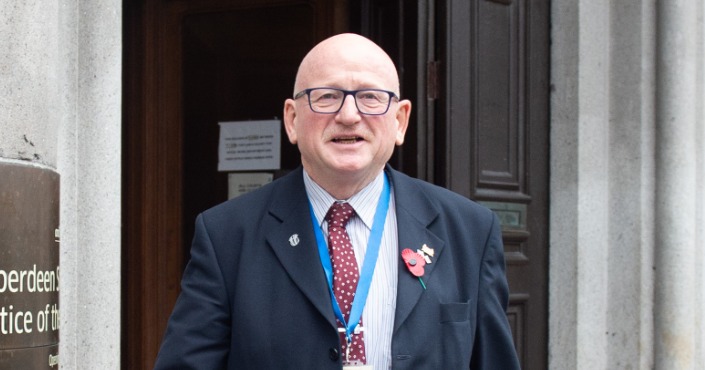 An Aberdeen councillor has been suspended from his role for a year - after being convicted of sexual assault.
A Standards Commission panel found that Alan Donnelly had breached the councillors' code of conduct.
He was found guilty of sexual assault after a trial last December, following an incident in November 2018 during which he kissed and touched a man.
The hearing took place today, having initially been adjourned at Donnelly's request. A second attempt to have the hearing suspended until January was rejected.
The suspension is backdated to March, when an interim order first came into force, meaning he can return to his role in four months' time.
However, Donnelly will continue to receive his full salary.
A spokesperson for Aberdeen City Council said: "We note the decision of the Standards Commission. Councillor Donnelly will remain suspended for one year.
"Councillor Donnelly has been suspended after a full investigation and decision by the Standards Commission. While suspended, Councillor Donnelly will continue to receive his full pay. This is a legal requirement and not a decision of the council."
Donnelly is now facing fresh calls to resign.
Councillor Ian Yuill, Liberal Democrat group leader on the council, said: "Alan Donnelly's suspension for a year is a further damming indictement of his disgraceful behaviour in committing a sexually assault.
"Mr Donnelly's suspension means the people of Torry and Ferryhill will be under represented on the council for the next 12 months. That is on top of the eight months they have already been under represented because of his interim suspension.
"If he had any decency, Alan Donnelly would have resigned as a councillor when he was found guilty of sexual assault last December. The Liberal Democrats once again call on Mr Donnelly to resign so the people of Torry and Ferryhill can be properly and fully represented on the council."
You can read a full report on the hearing from the Press and Journal here.